Meeting with President of People's Republic of China Xi Jinping
Vladimir Putin met with President of the People's Republic of China Xi Jinping, who arrived in Russia on a state visit.
March 20, 2023
21:00
The Kremlin, Moscow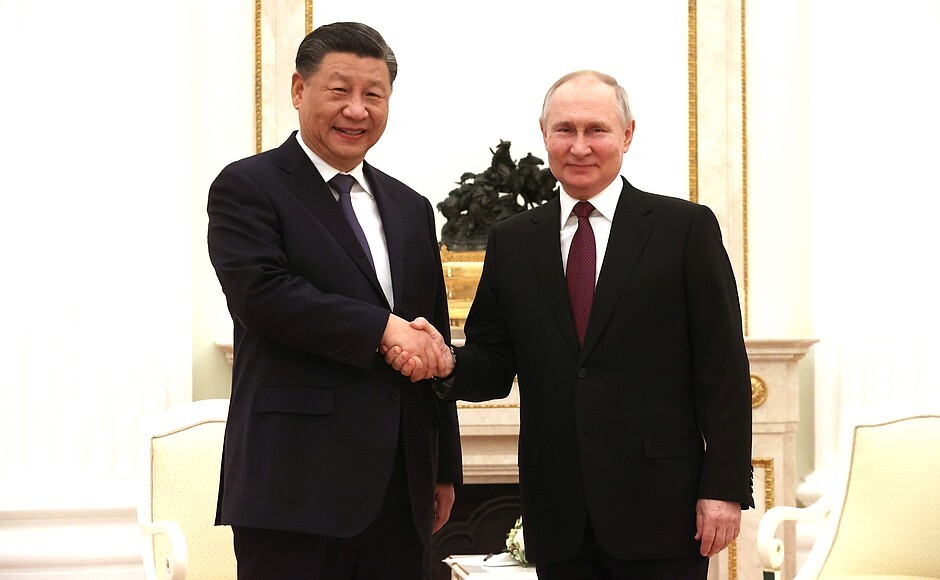 2 of 6
With President of the People's Republic of China Xi Jinping. Photo: Sergei Karpukhin, TASS
President of Russia Vladimir Putin: Mr President, dear friend, welcome to Russia, to Moscow.
I am glad to have a chance to congratulate you in person on your re-election as President of China. This was possible because the Chinese nation and its representatives rightfully appreciate your work over the past decades.
In recent years, China has made a colossal leap forward in its development. It has been the object of sincere interest around the entire world, and we are even a bit envious of you.
China has created quite an effective system to develop the economy and strengthen the state. It is much more effective than what many other countries have, which is an undeniable fact. Market mechanisms go hand in hand with a quite confident policy programme and yield tangible results.
I am sure that, under your leadership, China will continue to make strides in its development in the years ahead and will, without a doubt, fulfill its goals.
It is symbolic that exactly ten years ago, we also met here, and it was your first visit to Russia as the President of the People's Republic of China. Since then, we have made great strides in developing our relations. Our trade has more than doubled, from just over $87 billion, I believe, to almost $200, $185 billion to be exact. We share numerous goals and objectives.
You personally and all of our Chinese friends devote much attention to Russian-Chinese relations, taking a fair and balanced stance on the majority of topical international issues. We have carefully studied your proposals on resolving the acute Ukraine crisis and we will have an opportunity to discuss this matter. We know that you are guided by the principles of justice and respect for the fundamental provisions of international law and indivisible security for all countries. You are aware as well that we remain open to negotiations. We will, of course, discuss these issues, including your initiatives, which we certainly respect.
Overall, our interaction in the international arena is promoting the fundamental principles of international order and multipolarity. There are lots of economic cooperation issues. Tomorrow, we will discuss this with the participation of our partners and colleagues. I am pleased that you thought fit and took the time to come here in the evening in order to discuss all issues of interest in an informal and friendly atmosphere.
Welcome.
President of the People's Republic of China Xi Jinping (retranslated): Mr President, I always call you my dear friend.
I am very pleased to once again pay a state visit to Russia at your invitation, especially so shortly after my most recent re-election as President of the PRC, and I chose Russia for my first foreign visit.
You just mentioned that exactly 10 years ago, when I first became President of the People's Republic of China, I also chose Russia for my first foreign visit. You reminded me of that, and to this day these pictures are well preserved in my heart.
The Chinese side pays a great deal of attention to promoting Cino-Russian relations, because this has its own historical logic and we are two major neighbouring countries. We are partners in comprehensive strategic interaction and cooperation, and this status determines the close relations between our countries.
Immediately after the successful conclusion of the 20th Congress of the CPC, following the recent session of the Chinese Parliament, and after my successful re-election as Secretary General of the CPC and President of the People's Republic of China, you immediately sent me messages of greeting. Once again, I express my deep gratitude to you.
I am aware that a presidential election will take place in your country next year. Thanks to your strong leadership, Russia has made significant progress in recent years in achieving results and expanding prosperity. I am sure that the Russian people will strongly support you in your good works.
Indeed, our countries share many overlapping or similar goals as we move forward.
Both our countries are making great efforts to achieve our goal of development and prosperity. For example, we set the goal of upgrading the Chinese model. Russia has also set ambitious goals for developing the country. I am confident that our cooperation and close interaction will definitely help us reach these goals.
I am also very grateful to you for the fact that over the past years, regarding the development and construction of China, you have always had a positive attitude towards us and supported us. Of course, we feel this, and we are grateful to you.
As we continue to promote Cino-Russian international strategic cooperation, we must achieve the goal of ensuring justice and equality in the world while also achieving further development and prosperity in our countries in the process.
I am very grateful to you for your very good initiatives and the fact that today we will have a friendly one-on-one dinner, so that while we talk, we can exchange views on bilateral issues, as well as all issues of mutual interest.
Thank you.
Vladimir Putin: Thank you.
<…>
See also
On March 20–22, President of China Xi Jinping will pay a state visit to Russia at the invitation of Vladimir Putin
March 17, 2023
On March 20–22, 2023, President of the Peoples Republic of China Xi Jinping will pay a state visit to Russia at the invitation of Vladimir Putin.
During the talks the two leaders will discuss current issues concerning the further development of the comprehensive partnership and strategic cooperation between Russia and China.
Vladimir Putin and Xi Jinping will also exchange views in the context of deepening Russia-China cooperation on the international arena. A number of important bilateral documents will be signed.
-------------------------
중국외교부 발표
Forging Ahead to Open a New Chapter of China-Russia Friendship, Cooperation and Common Development
2023-03-20 06:21
Xi Jinping
President of the People's Republic of China
At the invitation of President Vladimir Putin, I will soon pay a state visit to the Russian Federation. Russia was the first country I visited after I was elected President ten years ago. Over the past decade, I have made eight visits to Russia. I came each time with high expectations and returned with fruitful results, opening a new chapter for China-Russia relations together with President Putin.
China and Russia are each other's biggest neighbor and comprehensive strategic partner of coordination. We are both major countries in the world and permanent members of the UN Security Council. Both countries uphold an independent foreign policy and see our relationship as a high priority in our diplomacy.
There is a clear historical logic and strong internal driving force for the growth of China-Russia relations. Over the past ten years, we have come a long way in our wide-ranging cooperation and made significant strides into the new era.
— High-level interactions have played a key strategic role in leading China-Russia relations. We have established a whole set of mechanisms for high-level interactions and multi-faceted cooperation which provide important systemic and institutional safeguards for the growth of the bilateral ties. Over the years, I have maintained a close working relationship with President Putin. We have met 40 times on bilateral and international occasions. Together we have drawn the blueprint for the bilateral relations and cooperation in various fields, and have had timely communication on major international and regional issues of mutual interest, providing firm stewardship for the sustained, sound and stable growth of China-Russia relations.
— Our two sides have cemented political mutual trust and fostered a new model of major-country relations. Guided by a vision of lasting friendship and win-win cooperation, China and Russia are committed to no-alliance, no-confrontation and not targeting any third party in developing our ties. We firmly support each other in following a development path suited to our respective national realities and support each other's development and rejuvenation. The bilateral relationship has grown more mature and resilient. It is brimming with new dynamism and vitality, setting a fine example for developing a new model of major-country relations featuring mutual respect, peaceful coexistence and win-win cooperation. 
— Our two sides have put in place an all-round and multi-tiered cooperation framework. Thanks to the joint efforts of both sides, China-Russia trade exceeded US$190 billion last year, up by 116 percent from ten years ago. China has been Russia's largest trading partner for 13 years running. We have seen steady increase in our two-way investment. Our cooperation on major projects in such fields as energy, aviation, space and connectivity is moving forward steadily. Our collaboration in scientific and technological innovation, cross-border e-commerce and other emerging areas is showing a strong momentum. Our cooperation at the sub-national level is also booming. All this has brought tangible benefits to both the Chinese and the Russian peoples and provided unceasing driving force for our respective development and rejuvenation. 
— Our two sides have acted on the vision of lasting friendship and steadily strengthened our traditional friendship. On the occasion of commemorating the 20th anniversary of the China-Russia Treaty of Good-Neighborliness and Friendly Cooperation, President Putin and I announced the extension of the Treaty and added new dimensions to it. Our two sides have held eight "theme years" at the national level and continued to write new chapters for China-Russia friendship and cooperation. Our two peoples have stood by and rooted for each other in the fight against COVID, which once again proves that "a friend in need is a friend indeed".  
— Our two sides have had close coordination on the international stage and fulfilled our responsibilities as major countries. China and Russia are firmly committed to safeguarding the UN-centered international system, the international order underpinned by international law, and the basic norms of international relations based on the purposes and principles of the UN Charter. We have stayed in close communication and coordination in the UN, the Shanghai Cooperation Organization, BRICS, the G20 and other multilateral mechanisms, and worked together for a multi-polar world and greater democracy in international relations. We have been active in practicing true multilateralism, promoting the common values of humanity, and championing the building of a new type of international relations and a community with a shared future for mankind.
Looking back on the extraordinary journey of China-Russia relations over the past 70 years and more, we feel strongly that our relationship has not reached easily where it is today, and that our friendship is growing steadily and must be cherished by us all. China and Russia have found a right path of state-to-state interactions. This is essential for the relationship to stand the test of changing international circumstances, a lesson borne out by both history and reality.
My upcoming visit to Russia will be a journey of friendship, cooperation and peace. I look forward to working with President Putin to jointly adopt a new vision, a new blueprint and new measures for the growth of China-Russia comprehensive strategic partnership of coordination in the years to come.
To this end, our two sides need to enhance coordination and planning. As we focus on our respective cause of development and rejuvenation, we should get creative in our thinking, create new opportunities and inject new impetus. It is important that we increase mutual trust and bring out the potential of bilateral cooperation to keep China-Russia relations at a high level.
Our two sides need to raise both the quality and quantity of investment and economic cooperation and step up policy coordination to create favorable conditions for the high-quality development of our investment cooperation. We need to boost two-way trade, foster more convergence of interests and areas of cooperation, and promote the complementary and synchronized development of traditional trade and emerging areas of cooperation. We need to make sustained efforts to synergize the Belt and Road Initiative and the Eurasian Economic Union, so as to provide more institutional support for bilateral and regional cooperation.
Our two sides need to step up people-to-people and cultural exchanges and ensure the success of China-Russia Years of Sports Exchange. We should make good use of the sub-national cooperation mechanisms to facilitate more interactions between sister provinces/states and cities. We should encourage personnel exchanges and push for the resumption of tourism cooperation. We should make available better summer camps, jointly-run schools and other programs to steadily enhance the mutual understanding and friendship between our peoples, especially between the youth.
The world today is going through profound changes unseen in a century. The historical trend of peace, development and win-win cooperation is unstoppable. The prevailing trends of world multi-polarity, economic globalization and greater democracy in international relations are irreversible. On the other hand, our world is confronted with complex and intertwined traditional and non-traditional security challenges, damaging acts of hegemony, domination and bullying, and long and tortuous global economic recovery. Countries around the world are deeply concerned and eager to find a cooperative way out of the crisis.
In March 2013, when speaking at the Moscow State Institute of International Relations, I observed that countries are linked with and dependent on one another at a level never seen before, and that mankind, living in the same global village, have increasingly emerged as a community with a shared future in which everyone's interests are closely entwined. Since then, I have proposed the Belt and Road Initiative, the Global Development Initiative, the Global Security Initiative, and the Global Civilization Initiative on different occasions. All these have enriched our vision for a community with a shared future for mankind and provided practical pathways toward it. They are part of China's response to the changes of the world, of our times, and of the historic trajectory.
Through these ten years, the common values of humanity -- peace, development, equity, justice, democracy and freedom -- have taken deeper roots in the heart of the people. An open, inclusive, clean and beautiful world with lasting peace, universal security and common prosperity has become the shared aspiration of more and more countries. The international community has recognized that no country is superior to others, no model of governance is universal, and no single country should dictate the international order. The common interest of all humankind is in a world that is united and peaceful, rather than divided and volatile.
Since last year, there has been an all-round escalation of the Ukraine crisis. China has all along upheld an objective and impartial position based on the merits of the issue, and actively promoted peace talks. I have put forth several proposals, i.e., observing the purposes and principles of the UN Charter, respect of the legitimate security concerns of all countries, supporting all efforts conducive to the peaceful settlement of the crisis, and ensuring the stability of global industrial and supply chains. They have become China's fundamental principles for addressing the Ukraine crisis.
Not long ago, we released China's Position on the Political Settlement of the Ukraine Crisis, which takes into account the legitimate concerns of all parties and reflects the broadest common understanding of the international community on the crisis. It has been constructive in mitigating the spillovers of the crisis and facilitating its political settlement. There is no simple solution to a complex issue. We believe that as long as all parties embrace the vision of common, comprehensive, cooperative and sustainable security, and pursue equal-footed, rational and results-oriented dialogue and consultation, they will find a reasonable way to resolve the crisis as well as a broad path toward a world of lasting peace and common security.
To run the world's affairs well, one must first and foremost run its own affairs well. The Chinese people, under the leadership of the Communist Party of China, are striving in unity to advance the rejuvenation of the Chinese nation on all fronts through the Chinese path to modernization. Chinese modernization is characterized by the following features: it is the modernization of a huge population, the modernization of common prosperity for all, the modernization of material and cultural-ethical advancement, the modernization of harmony between humanity and nature, and the modernization of peaceful development. These distinctive Chinese features are the crystallization of our practices and explorations over the years, and reflect our profound understanding of international experience. Going forward, we will steadfastly advance the cause of Chinese modernization, strive to realize high-quality development, and expand high-standard opening up. I believe that this will bring new development opportunities to Russia and all countries in the world.
Just as every new year starts with spring, every success starts with actions. We have every reason to expect that China and Russia, as fellow travelers on the journey of development and rejuvenation, will make new and greater contributions to human advancement.
---------------
China's Position on the Political Settlement of the Ukraine Crisis
2023-02-24 09:00
1. Respecting the sovereignty of all countries. Universally recognized international law, including the purposes and principles of the United Nations Charter, must be strictly observed. The sovereignty, independence and territorial integrity of all countries must be effectively upheld. All countries, big or small, strong or weak, rich or poor, are equal members of the international community. All parties should jointly uphold the basic norms governing international relations and defend international fairness and justice. Equal and uniform application of international law should be promoted, while double standards must be rejected. 
2. Abandoning the Cold War mentality. The security of a country should not be pursued at the expense of others. The security of a region should not be achieved by strengthening or expanding military blocs. The legitimate security interests and concerns of all countries must be taken seriously and addressed properly. There is no simple solution to a complex issue. All parties should, following the vision of common, comprehensive, cooperative and sustainable security and bearing in mind the long-term peace and stability of the world, help forge a balanced, effective and sustainable European security architecture. All parties should oppose the pursuit of one's own security at the cost of others' security, prevent bloc confrontation, and work together for peace and stability on the Eurasian Continent.
3. Ceasing hostilities. Conflict and war benefit no one. All parties must stay rational and exercise restraint, avoid fanning the flames and aggravating tensions, and prevent the crisis from deteriorating further or even spiraling out of control. All parties should support Russia and Ukraine in working in the same direction and resuming direct dialogue as quickly as possible, so as to gradually deescalate the situation and ultimately reach a comprehensive ceasefire. 
4. Resuming peace talks. Dialogue and negotiation are the only viable solution to the Ukraine crisis. All efforts conducive to the peaceful settlement of the crisis must be encouraged and supported. The international community should stay committed to the right approach of promoting talks for peace, help parties to the conflict open the door to a political settlement as soon as possible, and create conditions and platforms for the resumption of negotiation. China will continue to play a constructive role in this regard. 
5. Resolving the humanitarian crisis. All measures conducive to easing the humanitarian crisis must be encouraged and supported. Humanitarian operations should follow the principles of neutrality and impartiality, and humanitarian issues should not be politicized. The safety of civilians must be effectively protected, and humanitarian corridors should be set up for the evacuation of civilians from conflict zones. Efforts are needed to increase humanitarian assistance to relevant areas, improve humanitarian conditions, and provide rapid, safe and unimpeded humanitarian access, with a view to preventing a humanitarian crisis on a larger scale. The UN should be supported in playing a coordinating role in channeling humanitarian aid to conflict zones.
6. Protecting civilians and prisoners of war (POWs). Parties to the conflict should strictly abide by international humanitarian law, avoid attacking civilians or civilian facilities, protect women, children and other victims of the conflict, and respect the basic rights of POWs. China supports the exchange of POWs between Russia and Ukraine, and calls on all parties to create more favorable conditions for this purpose.
7. Keeping nuclear power plants safe. China opposes armed attacks against nuclear power plants or other peaceful nuclear facilities, and calls on all parties to comply with international law including the Convention on Nuclear Safety (CNS) and resolutely avoid man-made nuclear accidents. China supports the International Atomic Energy Agency (IAEA) in playing a constructive role in promoting the safety and security of peaceful nuclear facilities.
8. Reducing strategic risks. Nuclear weapons must not be used and nuclear wars must not be fought. The threat or use of nuclear weapons should be opposed. Nuclear proliferation must be prevented and nuclear crisis avoided. China opposes the research, development and use of chemical and biological weapons by any country under any circumstances.
9. Facilitating grain exports. All parties need to implement the Black Sea Grain Initiative signed by Russia, Türkiye, Ukraine and the UN fully and effectively in a balanced manner, and support the UN in playing an important role in this regard. The cooperation initiative on global food security proposed by China provides a feasible solution to the global food crisis.
10. Stopping unilateral sanctions. Unilateral sanctions and maximum pressure cannot solve the issue; they only create new problems. China opposes unilateral sanctions unauthorized by the UN Security Council. Relevant countries should stop abusing unilateral sanctions and "long-arm jurisdiction" against other countries, so as to do their share in deescalating the Ukraine crisis and create conditions for developing countries to grow their economies and better the lives of their people.
11. Keeping industrial and supply chains stable. All parties should earnestly maintain the existing world economic system and oppose using the world economy as a tool or weapon for political purposes. Joint efforts are needed to mitigate the spillovers of the crisis and prevent it from disrupting international cooperation in energy, finance, food trade and transportation and undermining the global economic recovery.
12. Promoting post-conflict reconstruction. The international community needs to take measures to support post-conflict reconstruction in conflict zones. China stands ready to provide assistance and play a constructive role in this endeavor.